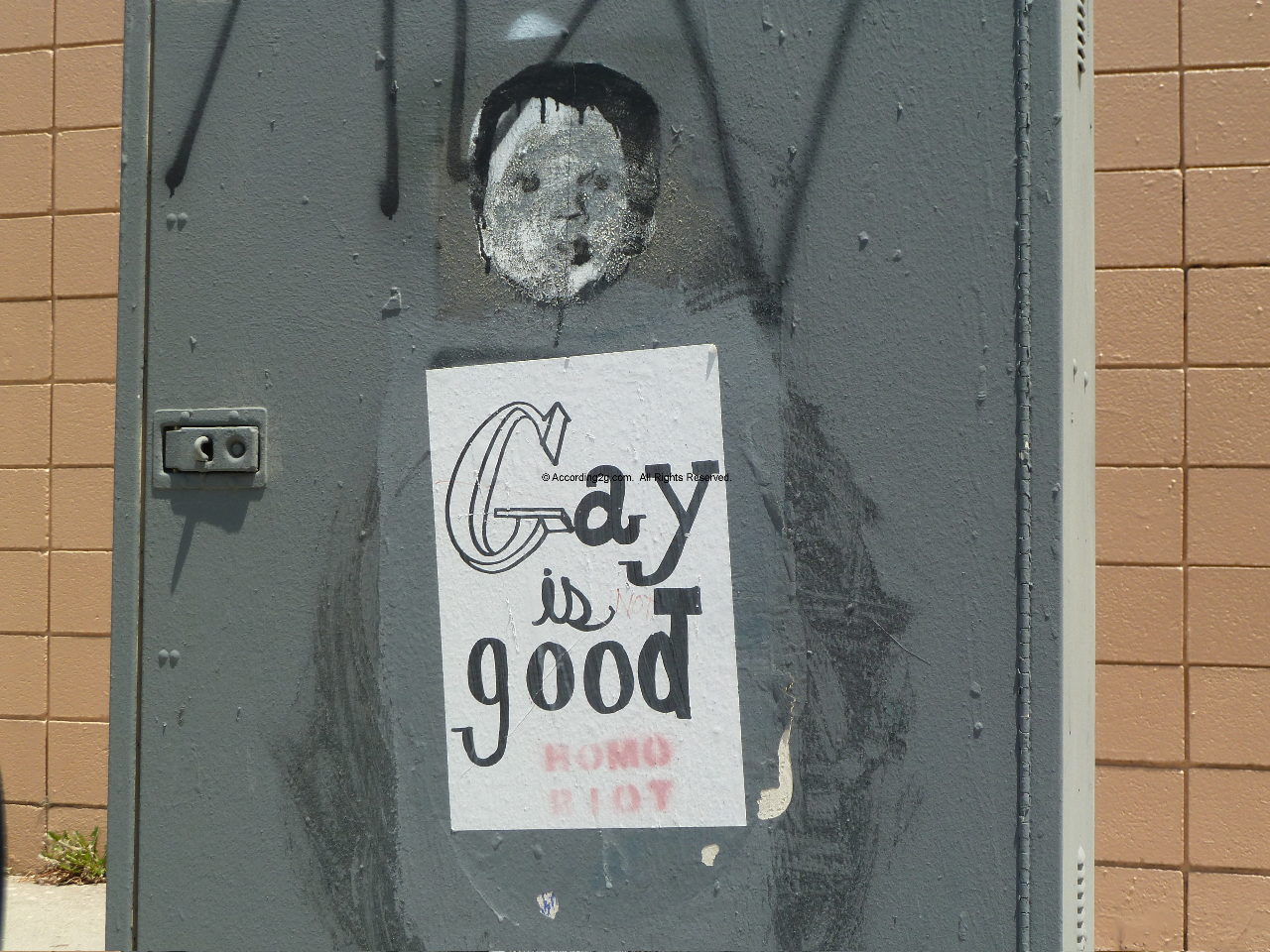 Gay is Good by Homo Riot
Thursday, May 9th, 2013 – 7PM
Presentation by Shawna Dempsey
In honour of Queer Pride, artist and activist Shawna Dempsey will be presenting a lecture on the history of queer activism and graphic production. Posters, leaflets, banners etc. have been a mainstay of myriads of groups trying to get their voices heard; none more so or more effectively than queer based groups such as the AIDS Coalition to Unleash Power (ACT UP). Please join us for what promises to be an informative and lively presentation.
In 1989, Shawna Dempsey and Lorri Millan started an artistic collaboration that continues to the present. This duo creates performances, videos, films, installations and print projects that have been seen in venues ranging from women's centres in Sri Lanka to the Museum of Modern Art. They are most infamous for We're Talking Vulva, a performance in which Dempsey dresses as giant female genitalia, and Lesbian National Parks and Services, a multi-media project in which uniformed Rangers work to protect the fragile lesbian ecosystem.
Print, Pride and Propaganda Workshop
Instructor Roy Liang
Saturday, May 11th & Sunday, May 12th. 1- 6 pm $125 (+ Martha Street Studio membership)
MSS is offering a thematic 2 day intensive screen print workshop just in time for Queer Pride. In the workshop you will take your image and/or text ideas and translate them into a printed multiple, whether it's a 4" x 5" handout or a 13" x 19" poster (or beyond?). No experience necessary. Just bring your Pride on your sleeve and learn how to transform it into multiples for 'spreading the word', celebrating your creative spirit or making visible your queer identified perspective. Registration will be restricted to 6 participants on a first come first serve basis, so register early to guarantee your spot.
For the Winnipeg Pride Parade  of 1998 Roy Liang made a poster with a cut out of Rob Halford (Judas Priest) stating "You Got Another Thing Comin'" (it was Rob's coming out year).  In 2007 Roy took his first screen printing class at Martha Street Studio.  "Both events shaped my life as I realized that I had always been outspoken, but with printed matter."  Since then Roy has been accused of his own style of brandalism but states: "it's worth it to make people smile and change the way they look at things."