Event Details
http://www.arprim.org/programmation/2017-2018/353-we-are-three.htmlhttp://
For Daddy (detail), 2018, digital prints, chine-colle, screenprint
Kerri-Lynn Reeves
Finley Rae Reeves Williams
Aron Williams
April 13th, 2018 to May 12th, 2018
Opening: April 13th, 5:30-9:30 pm
Artist talk: Friday, April 13, 6pm
*Exhibition extended to May 18, 2018*
at Arprim centre d'essai en art imprimé
372 rue St Catherine Ouest, Montréal, Québec
— French to follow —
 
This exhibition and artist talk take place at Arprim, 372 rue St Catherine Ouest, Montréal, Québec.
Visitors wishing to contribute to a potluck at the opening are invited to bring a meal to share. 
Presented in partnership with Arprim centre d'essai en art imprimé, WE are THREE is based on a collaboration between coparents Kerri-Lynn Reeves and Aron Williams, and their daughter Finley Rae Reeves Williams. In a language that combines geometrical abstractions with gradually recurring, spontaneous and free-flowing patterns, their works merge various printing techniques that reflect each member's particular style.
At the heart of this project is a reflection on collaborative processes and the division of labour as issues that span the artists' practices as well as family life. The exhibition is suggestive of a similar dynamic in which perspectives and experiences overlap, both in the production of a body of work and the construction of a family unit within a larger social context.
Arprim and Martha Street Studio partnered on this exhibition project to highlight collaborative approaches to art making. The artists were selected by a collective jury through Arprim and Martha Street Studio in 2017. In addition to this exhibition, during their stay in Montréal the artists will also be attending a residency at L'imprimerie, centre d'artistes.
—–
WE are THREE
Finley Rae Reeves Williams
Kerri-Lynn Reeves
Aron Williams
Du 13 avril au 12 mai 2018 
*l'exposition a été prolongée jusqu'au 18 mai 2018*
Vernissage le vendredi 13 avril dès 17h30
Présentation d'artistes le vendredi 13 avril  à 18h
Présentation d'artistes et discussion lors du vernissage, à 18h, en formule ''potluck'' conviviale. Les membres du public sont invités à apporter, s'ils le souhaitent, un plat à partager.
Présenté en partenariat avec Arprim centre d'essai en art imprimé, WE are THREE est basé sur une collaboration entre les coparents Kerri-Lynn Reeves et Aron Williams et leur fille Finley Rae Reeves Williams. Dans un langage qui combine l'abstraction géométrique et l'apparition de motifs récurrents à une gestualité libre et spontanée, les œuvres allient diverses techniques de l'imprimé, exprimant ainsi la particularité du style de chacun des trois collaborateurs. 
Au cœur de ce projet se trouve une réflexion sur le processus de collaboration et sur la division du travail, enjeux qui traversent autant la pratique des artistes que leur vie de famille. L'exposition évoque une dynamique dans laquelle les perspectives et les expériences de chacun se superposent, et ce, à la fois dans la création du corpus et dans la construction de la cellule familiale, au sein d'un contexte social plus large.
Arprim et Martha Street Studio se sont associés à ce projet d'exposition pour mettre en lumière les approches collaboratives de l'art. Les artistes ont été sélectionnés par un jury collectif à travers Arprim et Martha Street Studio en 2017. En complément à leur exposition, les artistes seront accueillis à L'imprimerie, centre d'artistes pour une résidence de production lors de leur séjour à Montréal.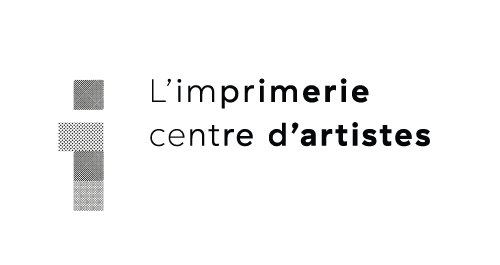 Date and Time